(Updated for 2022-2023)
A volunteer abroad, teach abroad, or study abroad trip can be the experience of a lifetime. Not only do you have the potential to provide positive benefits to the host community, you can develop your professional and personal skills. Indeed, there are many advantages to volunteering abroad. Unfortunately, "sticker shock" can discourage some from even going in the first place. The cost of serving overseas just seems too great.
If you start sensing the cost of serving overseas is too much, stop your thoughts right there! And realize that you have other options outside of forking over thousands of dollars for a high-quality volunteer program. This article discusses how you can minimize the cost of volunteering abroad by highlighting the cheapest volunteer programs, and even answers the questions "how can I travel for free?"and even "how can I get paid to travel?".
Can I Volunteer Abroad for Free?
Yes, you can go on a volunteer trip for free. But you need to make full use of available resources and perhaps be even a little lucky. At the very least, you can cut down costs greatly, by focusing on high-quality, affordable volunteer abroad programs (yes, they exist!).
Now, you're probably asking: How do I volunteer for free and/or lower costs?
First, focus on organizations from our list of 2022 Best Volunteer Programs that offer advice on how to volunteer overseas using high-quality, low-cost volunteer programs, such as GoEco and Volunteer Forever's top-rated program, Maximo Nivel. This will enable you to save hundreds, if not thousands, on your volunteer program.
Additionally, there are multiple strategies to volunteer for free or close to it, including:
How Much Does it Cost to Volunteer Abroad?
As you begin strategizing on how you can volunteer in Europe for free, volunteer in Africa for free, or another location for free, understand the costs associated with volunteering abroad. Aside from the general program fee, there are other expenses, such as traveling to and from your destination.
For example, here's a typical cost-breakdown for Volunteering Solutions and Projects Abroad, two organizations that were named our 2022 Best Volunteer Abroad Programs:
Volunteer Program Fee: $200 (Volunteering Solutions) – $925 per week (Projects Abroad)
Airfare: $300 – $1200 (depending on location/route)
Miscellaneous expenses: travel insurance, medications, vaccinations, etc. (about $100)
Total trip cost: $600 – $3200+
Generally speaking, the program fee includes things like housing, training, meals, and support. However, other expenses, such as an application fee, visa, travel souvenirs, sightseeing, insurance and going out in the local area can add to the total cost of your trip. So, factor in the additional expenses when figuring out how to reduce the costs of volunteering abroad.
Why do I Have to Pay to Volunteer?
It isn't always easy to find free international volunteer opportunities. A volunteer organization often charges a program fee to cover the costs associated with hosting you as a volunteer. Reputable organizations do this because it enables them to free up resources to better serve host communities.
With that said, there are ways you can volunteer for free. You can apply to a no-fee volunteer project with the Peace Corps, Volunteer Service Overseas (VSO), or United Nations (UN) Volunteers. These organizations don't require a program fee, may cover all of your expenses, including airfare and room and board, and even provide a stipend. However, these well-known international volunteer programs are highly selective and may require a significant time commitment (27 months for Peace Corps and six months for UN Volunteers).
If you're interested in long-term volunteer trips, like those offered by the Peace Corps, read this article for more details and options. It can be easier to find shorter trips to volunteer during summer or winter breaks. For many, short-term volunteer trips are the best choice.
Short-term volunteer programs typically have fees. But do note you don't have to spend a ton of money to join a high-quality program offered by a reputable organization. We've hand-selected the list of affordable programs below from our list of 2022 Best Volunteer Programs.
How can I get paid to travel?
Teach English abroad programs are a popular way to live and work in another country. Essentially, it is a great way to get paid to travel. In order to Teach English abroad, we recommend that you earn your Teach English as a Foreign Language (TEFL) certification. International TEFL Academy offers a great 11-week program where you can earn your TEFL certification online to prepare for your teaching English trip abroad. Once you have your TEFL certification, you will get lifetime job placement assistance to live, work, and get paid to travel to exotic destinations such as Thailand, Costa Rica, Mexico, and more!
What are the Best Volunteer & Teach Abroad Programs around the World?
Another organization with affordable programs abroad is Maximo Nivel, which operates intercultural centers in Costa Rica, Peru, and Guatemala. Maximo Nivel has partnered with California State University, Monterey Bay (a regionally accredited university) to enable their volunteers and interns to earn university credit for their trips. See this page to understand how you can earn university credits.
Maximo Nivel fees start at $645 for one week, which is reasonable in comparison to other organizations. Also, earning credit during your trip offsets expenses when you consider how expensive those credits would be at home. It can enable you to graduate early, potentially saving you thousands of dollars. Do check if the credits will transfer to your university (Maximo Nivel can help with transferring credits).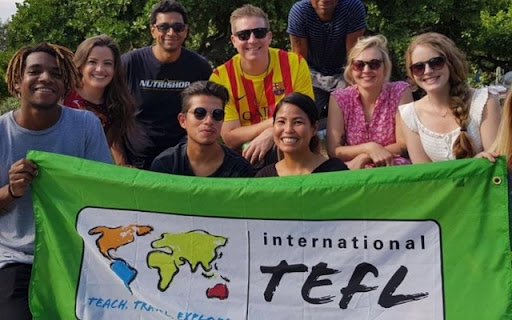 Founded in 2010, International TEFL Academy (ITA) offers the gold standard in TEFL certification for teaching English abroad & teaching English online. We are proud to provide the finest internationally accredited TEFL courses both online and in-person in 20+ locations across the globe. ITA certifies 5,000 people per year, and our graduates are teaching in over 80 countries & online. Our #1 commitment is to provide the highest quality training and services to our students to help you achieve your goal of getting a great job and enjoying the experience of a lifetime teaching English abroad and online.
All ITA TEFL courses – including online TEFL classes – include live practice teaching & employ a state-of-the-art curriculum taught by highly credentialed and experienced instructors. In addition, all ITA students receive lifetime job search assistance that includes personalized guidance from our team of expert advisors. To learn more & begin your journey, download your free TEFL Guide now.
If you're looking for a low-cost adventure, GoEco can provide just that. With more than 150 high-quality community, wildlife, and environmental initiatives across the world, you're certain to find a volunteer project that suits your interests and budget. The organization was created by experienced volunteers in 2006, and they've made a point to ensure their programs make an impact and are affordable. To make their programs even more affordable, GoEco also offers fundraising opportunities and scholarships like the GoEco Volunteer Scholarship, which includes a $1,000 flight voucher plus full program cost.
One of their most budget-friendly projects is the Desert Wildlife Program in Israel (from $650 for two weeks). Protect endangered animal populations in the Arava Desert and assist with educational outreach.
Or, you participate in the Sustainable Community Development initiative in Samraong, Cambodia (from $580 for one week). Volunteer work consists of teaching at a local school and assisting with construction and renovation of schools and community centers.
Volunteering Solutions (VolSol) is an international volunteer organization that was started in 2007. Since then, they have hosted over 17,000 volunteers in projects across 27 countries, including popular destinations such as Nepal, India, Thailand, South Africa, Peru, and Costa Rica.
Volunteering Solution's volunteer projects are among the most affordably priced in the world, starting at $200 USD for one week.
In addition to their 120+ volunteer projects, Volunteering Solutions also offers intern abroad opportunities, the highlight of which are their international medical internships.
To learn more about Volunteering Solutions and apply to their program, visit their website here (UK readers, please visit their UK site here).
Offering more than 150 unique projects in 34 countries around the world, Love Volunteers places thousands of volunteers into meaningful and life-changing programs each year. Launched in 2009, Love Volunteers has become known for their impactful, reasonably priced programs (which include three meals a day and homestay/volunteer house accommodation). One- and two-week placements are typically priced between $180-$400.
For instance, Love Volunteers offers very affordable one-week placements in exciting volunteer destinations like Honduras ($190) and Nepal ($195). Please note there is a $249 registration fee to reserve your spot, and you'll be responsible for your own airfare and travel insurance.
Saving money means not losing money, and one way Plan My Gap Year helps its travelers be financially responsible is through Travel Vault. Plan My Gap Year is a member of Travel Vault, so your program and registration fee are insured and financially protected. This peace of mind is important even when you're traveling on an affordable volunteer program! A trusted organization founded by volunteers for volunteers, Plan My Gap Year offers a range of projects in the areas of community, childcare, conservation, and healthcare.
One excellent and affordable program to consider with Plan My Gap Year invites you to teach English in Morocco, with fees starting at only $225. Low registration fees, cheap flights from London, and low-cost project fees makes Plan My Gap Year a great option for cost-conscious travelers and offers loads of fundraising advice and even a scholarship!
Projects Abroad began in 1992 and has become one of the largest volunteer organizations in the world. To date, they've placed more than 120,000 volunteers in programs across Africa, Asia, Latin America and the Caribbean, Europe, and the South Pacific. Known for their world-class support and high-quality service projects, Projects Abroad receives excellent reviews from past volunteers. On Volunteer Forever, they have a rating of 4.7 out of 5 stars across nearly 350 reviews!
With a variety of award-winning volunteer projects, Projects Abroad has prices starting at $925 per week. If you stay longer, your average daily fees go down even further. Even better, volunteers get food and accommodation on each project (which lowers your expenses greatly!).
For example, you could volunteer as a sports coach in Samoa and help the youth there. If you stay for five weeks, the fee is $3,590 (or $718 per week). With a group? Consider Projects Abroad's Wildlife Conservation project in Botswana. For each group member, fees are $1,785 for two weeks.
Specializing in low-fee, top-notch volunteer projects throughout Africa, Agape Volunteers has been named one of Volunteer Forever's Best Volunteer Abroad Programs. Founded by Oxford graduate Guillaume Lefevre in 2011, the organization boasts a perfect 5-star rating on Volunteer Forever. Definitely check them out if you're looking for an affordable, reputable program in Africa.
Projects through Agape Volunteers start at only £510, a cost which already includes registration fees and your travel insurance. You can volunteer in projects ranging from medical volunteering to coaching a football academy in Nairobi. Popular volunteer destinations include Kenya, South Africa, Ghana, and Tanzania.
When it comes to budget-friendly volunteer trips, Iko Poran offers plenty of options. The organization has projects throughout Latin America, Africa, Asia. Many start from only $150 for your first week abroad (including a $229 registration fee). The program fee is paid directly to the host country and community, ensuring that the money is used to help those you serve.
Iko Poran currently has an incredible opportunity to volunteer and teach English in Colombia for free ($229 registration only). A few other affordably-priced volunteer programs include a Nepal teaching trip, Uganda sports coaching program, and Peru construction initiative.
If you're searching for an affordable, unique program in an exotic location, Fronteering is the right organization to consider. With programs in more than 15 countries throughout the world, Fronteering has numerous great volunteer programs with low price tags. The organization is known for their off-the-beaten-path projects that aim to uplift indigenous communities and preserve natural environments.
One program through Fronteering brings you to the northernmost territories in Canada to care for and play with huskies. Not only will you get to go dog sledding and experience life off the grid (there's no electricity in the cabin!), you'll also get to see majestic scenes like the northern lights and wildlife such as moose and lynx roaming free. How splendid does that sound? Note the husky center has over 100 dogs, and your work as a volunteer intern is necessary to maintaining the facility, keeping the dogs healthy and happy, and ensuring long-term sustainability of the operation. The program costs just $1345 for 12 weeks.
Or, head to the wide-open spaces of Roraima, Brazil and live with a local family on a ranch. This program is a wonderful way to immerse yourself in Brazilian culture, learn Portuguese, and see what it takes to work on a ranch. Main duties include feeding and grooming the animals, gardening, cleaning the stables, helping prepare meals, and giving salt to the cows. The project takes you away from the lights and sounds of the big cities in Brazil to experience the quiet, rural side of the country. Soak it up because it truly can be a peaceful, enlightening time. The program costs just $895 for four weeks, and you can stay up to 12 weeks.
Global Vision International (GVI) has been around since 1998, having placed more than 35,000 participants in volunteer programs and internships around the world. They run hundreds of projects and even offer short-term trips designed for younger volunteers, including high school students, who want to travel, learn, and support good causes. Longer programs are excellent for those looking for career development opportunities and to gain professional experience.
Affordable programs range from wildlife conservation in South Africa to women's empowerment in India. Book your trip in advance, when projects have more availability.
Understanding Airfare Costs
The vast majority of volunteer organizations, aside from the Peace Corps, VSO, and UN, require participants to pay for their own airfare. This is because they must conserve limited resources for the communities they serve.
Depending on the volunteer project, your round-trip flight can be the biggest or second-biggest expense of your volunteer trip. International flights across the world, such as from Australia to Peru or from the United Kingdom to Thailand, typically begin at over $700 and can reach $1500+ during busy season.
To reduce, or even eliminate, this major expense, you have several options, including:
Using miles: There are two choices here.
Use your own miles: Perhaps you have accumulated miles with an airline from previous flights. Use these to buy or reduce the cost of the ticket. There are also many sign-up bonuses offered by airline-sponsored credit cards (some are large enough to fly round-trip overseas for free). Just take caution when applying for and using a credit card; only get the card if you're confident you can use it responsibly.
You could ask a friend or family member to donate you miles so you can book your ticket for free. While this isn't technically money out of their pocket, keep in mind that these points do have value and probably have taken some time and money to accumulate. For example, a flight from Canada to Thailand using United Airlines miles costs 80,000 miles round trip (which is equal to ~$1200, according to points and miles experts). Make sure to communicate with your miles donor just how much it means to you and how it's helping you with one of the biggest expenses of volunteering abroad.
Fly somewhere close: Volunteering close to your home country is cost-effective when it comes to flights. For instance, if you live in the United States, try something in Latin America. Volunteering in Costa Rica or Jamaica rather than India or Sri Lanka can save you $500 or more on airfare. Similarly, if you're in the United Kingdom, volunteering in Turkey or Morocco rather than Cambodia or Thailand can save you hundreds of dollars on a flight. If you live in Australia, know there are plenty of amazing volunteering opportunities nearby in Australasia and the Pacific, including in Fiji, New Zealand, and Samoa; flights to Southeast Asian countries like Vietnam from Australia and New Zealand are reasonable as well in comparison to flying to Africa or South America.
Use your volunteer program's recommended flight provider: It's always a good idea to check with your volunteer organization to see if they have a partnership with an airfare platform or agents. For example, International Volunteer HQ (IVHQ) works with a team of humanitarian flight agents to get their volunteers affordable flights around the world.
Lastly, don't forget to check with your volunteer organization to see if they offer a stipend or scholarship for flights. One organization that does is IVHQ. Their Teach and Volunteer Scholarship includes a flight voucher up to a $1000 USD value.
Understanding Miscellaneous Costs
Miscellaneous costs such as travel insurance and vaccination/medications are typically always required depending on your volunteer organization's requirements and your destination country.
If your volunteer organization requires travel insurance, consider World Nomads. They provide coverage in 150+ countries and offer some of the most competitive prices online. For example, a 22-year old from Ireland that's traveling to South Africa for one week will pay roughly €38 for a standard insurance plan.
Even if travel insurance isn't required, things happen, plans change, and you want to be sure you're covered for any contingency. World Nomads Travel Insurance keeps you protected in case you want to cancel or extend your trip, if you need 24/7 emergency medical or dental assistance, or if evacuation or repatriation is required. It even protects your gear from loss, theft, or damage. So, be prepared and get your travel insurance today.
To protect your health, we advise asking your health provider about recommended vaccinations for your destination country. You can also check out the travel vaccinations pages for the US Centers for Disease Control and Prevention website and the UK National Health Service website.
To reduce miscellaneous costs, utilize the following strategies:
See if it's cheaper to purchase travel insurance from a third party provider, like World Nomads, even if your volunteer organization recommends a specific provider. You can also check with your existing insurance providers, such as your auto or renter's insurance company, to see if they have a low-cost travel insurance policy.
See if you can get vaccinations free of charge through your health insurance provider's network or at a student health clinic.
While you probably want to enjoy shopping, entertainment, and sightseeing while you're volunteering abroad, remember that there are ways to save money. Do activities that don't have large costs associated with them, such as hiking in a nature preserve, bargaining when you shop for souvenirs (if it's culturally acceptable), and taking advantage of the meals offered by your program (they're included with the price!).
Volunteer Around the World for Free – Apply for Volunteer Scholarships and Grants
If you're not able to fully eliminate your trip expenses and plan free volunteering trips utilizing the strategies above, consider the benefits of applying for volunteer travel scholarships and grants to get your total expenses close to or at zero, including Volunteer Forever's Travel Scholarship (application open now until March 31st, 2019). To help you find suitable scholarships and grants, we've put together a comprehensive list of over 200 funding opportunities to help you volunteer for free:
200 Volunteer Abroad and Study Abroad Scholarships and Grants
If you want automatic access to exclusive scholarships without all the legwork, apply to a volunteer program through Abroadly, Volunteer Forever's volunteer booking platform. Abroadly brings everything all into one place, allowing you to quickly search for reputable volunteer, intern, and teach abroad programs across the world and in any field, from education to community development to environmental conservation. By going through Abroadly to book your trip, you'll have the chance to win a $500 scholarship to fund your overseas service trip.
Another scholarship you want to be in the know about is International Volunteer HQ's (IVHQ) Teach and Volunteer and Abroad Scholarship, which includes a sponsored two-week volunteer program, an internationally-recognized TEFL course from CCELT online, a $1,000 travel voucher from STA Travel, and a volunteer travel insurance package from World Nomads.
Keep in mind these scholarships and grants may be limited. The application process can be highly competitive as well. For example, the Samuel Huntington Public Service Award, which offers up to $15,000 for a volunteer trip, is only offered to one graduating college senior per year.
Additionally, please be aware certain scholarships and grants may only be available for participants in specific volunteer programs, like Travelocity's Travel for Good Program, which provides $5,000 for volunteering overseas. The Travelocity scholarship is only available for participants volunteering with Cross-Cultural Solutions, Globe Aware, Earthwatch, and a few other organizations.
Finally, note that applying for these volunteer scholarships and grants may require a significant time investment. Since these volunteer travel funding opportunities are highly competitive, the vast majority of scholarships and grants have lengthy application requirements, such as a written proposal, personal essay, video submission, letters of recommendation, and/or an interview.
So, give yourself ample time to apply – apply early to ensure you have time to pursue other funding opportunities in case don't get the award. You could even apply for numerous scholarships and grants at once to maximize your chances of obtaining funding for your volunteer trip.
Scholarships and grants are a great way to fund your trip. However, given how highly competitive the process is and the long timelines involved, you also should try fundraising to pay for your volunteer adventure. Read on to learn all about what you have to do to fundraise for your trip!
Volunteer Abroad for Free – Fundraise
Crowdfunding to pay for your volunteer trip expenses has become an increasingly popular way to volunteer around the world for free. At Volunteer Forever, we give volunteers the chance to raise money through our crowdfunding platform. To date, Volunteer Forever fundraisers have already raised more than $2,000,000 to make their dreams of volunteering abroad come true. Many of our fundraisers have actually been able to completely pay for their volunteer trips through crowdfunding.
With so many successful volunteers on our platform, we've been able to put together a good list of secrets and tips to running a successful fundraising campaign. Here's what you need to do:
1. Tell a great story
The key to launching a successful crowdfunding campaign is to tell a great story to your potential donors. When asking for donations for your trip, you'll need to tell a logical and compelling story for why you need funds. Ideally, you should be able to weave your past experience, current educational or professional pursuits, and future hopes and aspirations into a cohesive narrative to explain why you are the perfect person to make a meaningful contribution overseas.
In short, you'll need to provide your intentions of volunteering abroad by tying together your experiences and goals with the needs of the host community you'll be visiting.
So, what medium should you use? The answer is it depends on your skillset and audience. For instance, if you're a great writer, consider a personal essay. Or, if you can put together a great presentation, create a proposal on PowerPoint.
One of the most compelling ways to tell your story is through a personal fundraising video. We recommend keeping your fundraising video to 2 – 3 minutes; any more and you may risk losing the attention of your audience.
2. Share Your Great Story
Once you've crafted a great story, your next step is to share that story with your family and friends. Unfortunately, many fundraisers initially have the perception that donors will be coming to them. That couldn't be farther from the truth. You'll need to execute a highly coordinated effort to reach out to your family and friends through email, social media such as Facebook and Instagram, and even phone calls and text messages.
Furthermore, our analysis of the latest crowdfunding research shows that you should reach out to and get donations from your closest family members and friends first before publicizing your campaign to your entire personal network. This technique demonstrates "social proof" to people further outside your core network. Basically, social proof happens when people close to you have demonstrated that they trust you, which makes it easier for people outside your core network to trust you and support you.
Simply put, ask the 10 people in your life you are closest with to donate to you before publicly broadcasting your fundraising campaign on social media.
3. Stay Persistent and Keep Your Network Engaged
Persistence is a common trait among our most successful fundraisers. It's not easy asking for a donation and many times, people may not even respond. Here's what three of our top fundraisers had to say about persistence:
"The best advice I have is Don't Give Up! At one point I was worried about reaching my goal and was afraid of posting too much or coming on too strong. I worried that maybe people thought I was just asking for money. Luckily, someone close to me reminded me to shift my thinking. Although it may feel uncomfortable to ask, fundraising really isn't about the money, it's about providing everyone the opportunity to help!" – Lori, $5,500 raised.
"I was extremely persistent and diligent. I learned that people need to be reminded constantly. They are busy. They get distracted. They may see one of my posts and think, 'oh yeah, I want to give to Julie's campaign', but then they forget until they see the post again. That's why I kept posting and sharing. I got over feeling like I was annoying people. I got over feeling afraid that they would say no. I just kept asking, and they gave. Social media and crowdsourcing are powerful tools. But, just like anything else, if we want them to work for us, we must put in the time and effort." – Julie, $3,345 raised.
"People care about what you are doing and want to contribute and be a part of the goal. Sometimes, they get busy too. A little reminder is all it takes." – Heather, $4,300 raised.
Now, the question is: How often should you tell your network about your fundraising campaign? We recommend sharing at least every three days through social media. Chances are the majority of your network will not see your posts or have the time available to check out your campaign. Sharing your campaign often ensures that your messages reach your audiences during a time when it's convenient for them to make a donation.
Remember: Make full use of your available resources, and you'll be surprised by how much you can raise. There are lots of helpful guides to give you more ideas as well. For more awesome tips on running a wildly successful crowdfunding campaign, check out these articles:
Ready to Travel?
Though the average volunteer trip can cost thousands of dollars, there are lots of opportunities to volunteer for free. Whether it's employing methods to reduce or eliminate your trip expenses, winning a scholarship or grant, and/or running a successful crowdfunding campaign, we've shared with you three great strategies to travel and volunteer for free. Best of all, these strategies are not mutually exclusive; we recommend pursuing all three strategies at once to maximize your chances of volunteering abroad for free.
If you're still looking for international volunteer opportunities, check out our list of best volunteer abroad programs and recommended volunteer projects in Africa, Central America, and even individual countries like Thailand. You'll quickly discover numerous low-fee, high-quality projects across the world. You can also read about Great Medical and Veterinary Volunteer Abroad Projects, Dental Volunteer Programs and Medical Mission Tips for Pre Dental Students, and nursing volunteer projects for students and nurse professionals.
So, why wait any longer? Start working on making your volunteer trip free today. Soon, you'll be off on the adventure of a lifetime at a cost that's as low as possible (and even possibly free!).