Updated for 2024 – now includes information on dental internships abroad!
Calling all dentists, dental hygienists, or students aspiring to work in the dental health field are interested in dental volunteer abroad and dental elective projects!
In some countries, a lack of access to oral healthcare and education puts children and adults at risk of developing serious medical problems. Currently, oral diseases and conditions affect 3.58 billion people worldwide, according to a World Health Organization report. As dental health is one of the most underserved healthcare fields, there are dental volunteer projects around the globe that need your expertise.
If you have a passion for helping others, why not put your dental skills and passion to dentistry to good use? Many great projects are mobilizing skilled volunteers like yourself to maintain smiles and promote good oral health.
In this article, we'll give a comprehensive snapshot of what overseas dental volunteering abroad is like and give you advice from fellow volunteers. We'll also point you towards reputable, high-quality dental volunteer projects and super affordable dentistry elective projects, such as those offered by International Volunteer HQ (over 130,000 volunteers to-date!), Volunteering Solutions, and GoEco. We'll also highlight awesome intern abroad projects such as Intern Abroad HQ's dentistry intern program, Maximo Nivel's dental internship abroad programs in Latin America, and Projects Abroad's seven dental internships around the world!
Dental Volunteering and Interning Abroad: What's Involved?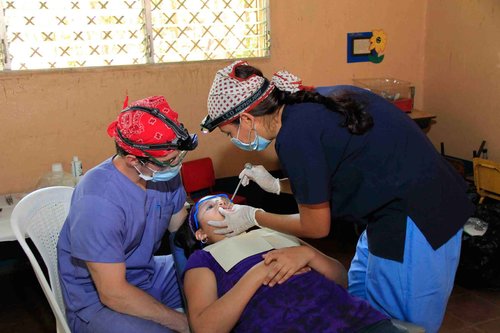 Dental volunteering and interning abroad encompasses a broad range of work and activities. Dental health volunteer experiences could vary based on location, the needs of the local population, the specific mission of the volunteer abroad project / internship, and the skills that you bring to the table.
Typical activities include:
Preventative dental care
Dental health education (brushing and flossing techniques, etc.)
Common pediatric oral care procedures
Dental health screenings
Extractions
Root canals and scaling
Support to dental hygienists
Maintenance of dental equipment
Other support roles associated with running a mobile dental clinic
Specialized oral health practices such as maxillofacial or orthodontics
Consider your preferences for location and project type, as well as your own expertise level. Know many programs can customize the program to fit your education and experience. For instance, for Projects Abroad's dental volunteering program in Cordoba, Argentina, the program will arrange your daily work based on your skills and qualifications (though do note that intermediate Spanish is a requirement). It's a great option for both pre-dental students and professional dentists. Those who've completed one year of dental school mostly observe and assist as needed. Those with two or more years of dental schooling and/or practical experience can perform hands-on dental care (at the discretion of the local professionals). On the other hand, Projects Abroad's dentistry internship in Mexico suits dental students, but is mostly an observational role. It's a great learning experience and will enhance your resume. The project is just designed for those not yet ready to perform more serious dental care.
Who can Serve as a Dental Health Volunteer or Intern?
Obviously, dental volunteer abroad projects suit established dentists and dental hygienists. But you don't have to be an oral health professional to volunteer for dental care abroad.
Most organizations, such as affordably-priced Maximo Nivel (top-ranked on Volunteer Forever), accept pre-dental students as well as other volunteers who are able to donate their time, passion for helping others, and skills to a good cause. After all, maintaining a dental clinic requires more than a dental surgery team. Unskilled volunteers and volunteers coming from another occupation can serve in important support roles—and have a big impact if they're enthusiastic and hard-working.
As example, check out who all Projects Abroad's dental volunteer abroad projects are open to:
We offer a range of dental programs, including:

Dental internships for high school students
Internships for pre-dental students
Dental internships for college students
Dentistry volunteer opportunities for professionals

No matter which dental internship you choose, we can tailor the experience to fit your level. You can also trust in the Projects Abroad guarantee: that all of our programs are safe, flexible, and hassle-free. Once you arrive in-country, all you need to worry about is the wealth of knowledge there is for you to absorb!
However, there are some guidelines that dental students and other responsible volunteers should uphold when volunteering for oral health, such as these guidelines (PDF Download) recommended by the American Dental Education Association (ADEA). These guidelines not only establish professional standards for international volunteer work, but also help volunteers build expectations of what they'll reasonably be asked to do in a dental volunteer abroad project.
A few things to point out:
You and your volunteer abroad organization may have noble intentions. However, underprepared and untrained dental volunteers can have a negative impact on local communities. This negative impact could include harm to the patients and legal issues with local authorities.
Scam volunteer abroad placement organizations do exist. ADEA warns dental and pre-dental students that being involved with shady international dental work could damage the student's future acceptance into dental schools. Do your due diligence, and only join programs with reputable volunteer abroad organizations (like those mentioned in this article).
Pre-dental students and other non-qualified volunteers should only accept clinical experiences in which they are asked to observe and support outside of the operating room, not assist with procedures. Pre-dental students should also look for programs that cater specifically to students. These programs feature more appropriate tasks for students and the organizations that run them have more experience with the educational facet of volunteering abroad. Additionally, some may have the proper qualifications and agreements with universities to exchange college credit for your volunteer time.
All volunteers, regardless of skill level, should prioritize the welfare of the patient—not their own opportunity to gain experience or what they think may help the patient. Leave any decision-making to the professionals in charge. Sometimes volunteering abroad isn't as hands-on as many volunteers imagine. But their work still greatly benefits the local community.
As you can see, volunteering abroad for dentistry is highly sophisticated. In many cases, projects work in conjunction with professional organizations like the American Dental Association (ADA) or the Hispanic Dental Association (HDA). This ensures international dental projects are held to the highest standards for medical and dental care.
Ready to Volunteer or Intern Abroad for Dental Care?
Now that you're all on board to volunteer / intern and understand what to expect, let's discuss the programs. The projects listed here come highly recommended by our volunteers and interns, are committed to making the world a better place, and provide dental volunteers / interns with meaningful experiences.
For each organization, we'll give you a basic breakdown of the organization itself, a look into specific dental volunteer projects and internships, and a few attributes that make each project shine. Keep reading to find the perfect dental volunteer abroad project / internship for you! Lastly, be sure to read through the whole article as we share travel scholarship opportunities and tips to fund your trip at the end!
Featured Dental Volunteer and Intern Abroad Organizations and Programs
Founded in 2007, International Volunteer HQ (IVHQ) provides more than 300 high-quality projects across 40+ destinations. They partner with local NGOs to offer programs for skilled individuals to volunteer anywhere from one week to six months. In their 16 years, they've sent nearly 130,000 volunteers abroad.
With program fees starting from $20 a day, IVHQ is a trusted, low-cost organization to volunteer with. They thoroughly prepare volunteers through email and phone correspondence and free, online pre-departure training. IVHQ partners also provide orientation and training sessions, as well as 24/7 support, upon arrival at your destination.
Check out some of IVHQ's international dental volunteering opportunities below:
Cost: from $665 for two weeks + a $50 weekly medical surcharge (covers supervision, materials, and logistics)
Duration: 1 to 12 weeks; starts every Monday
Looking for hands-on experience as a dental student? Join other dental volunteers in Kerala, India, and work alongside general practice and cosmetic dentists. As a volunteer with IVHQ, you'll work at a state-of-the-art local clinic and within local schools for dental check-ups. All work will be done under the guidance of trained local and international dental professionals. You'll gain experience as a dental student as you support developing communities and improve the oral health of children and adults. Note your level of participation depends on your experience and qualifications.
When you're not working on teeth, travel around Kerala, a state with majestic beaches and serene tea plantations. Learn more on IVHQ's site!
Cost: From $405 for one week
Duration: 1 to 24 weeks
Get a deeper understanding of a dental career, as well as hands-on experience working as a dental volunteer with IVHQ in Guatemala. For this project, volunteers do need to be in a dental school, a certified dental hygienist, or a dentist. You'll work alongside local dental hygienists and dentists at local clinics or health clinics. Duties vary based on experience, qualifications, and Spanish level but may include assisting with teeth cleaning, dental check ups, promoting dental hygiene, and administrative tasks.
By providing basic dental care to low-income and rural communities in Guatemala, you can make a difference (and learn a lot about the country). Already packing your bags? Register here first!
Cost: $320 for one week
Duration: 1 to 16 weeks
This dental program in Arusha, Tanzania with IVHQ is specially designed for dental students with at least two years of dental school, and dentists to gain exposure to dental concerns and dental health promotion in a disadvantaged population. Even though most of the dental care will be observational, you will be helping to promote dental health, and providing dental care and advice (based on experiences) to adults and children in local hospitals and clinics.
A top-rated volunteer abroad organization, GoEco has more than 150 initiatives around the globe. Founded by experienced volunteers in 2006, GoEco's programs have been carefully crafted to ensure volunteers get the desired experience and the communities benefit as much as possible. They're also affordable.
If you're looking for dental volunteer abroad programs, GoEco has projects that suit your needs and experience. Read below!
Price: From $1,180 for two weeks
Duration: 2 to 12 weeks
Head to the tropical coast of southern Sri Lanka, and help improve the dental health and overall well-being of the local community. You'll gain international experience in dentistry, enhance your resume/CV, and get to observe general and cosmetic procedures. Dental volunteers are placed in specific units, such as orthodontics or restorative dental. Medical and nursing volunteers can work in any number of departments, including pediatrics, surgery, and emergency.
During off-hours, do yoga, relax on the beach, and check out the wonderful architecture in Galle. Sound exciting? Note all dental volunteers must be enrolled in dentistry school (first-year students are welcome). Get more info here!
Price: From $770 for one week
Duration: 1 to 8 weeks
This medical mission trip takes you to Samraong, where you'll work on an initiative that aims to expand education of health issues to children in rural Cambodia. Main duties including preparing health class lessons, increasing awareness about health issues, and demonstrating basic hygiene procedures, including hand washing and brushing your teeth. With your help, you'll empower children to care for their physical and dental health.
Does this program seem like the right fit for you? Find out all you need here!
Founded in 2003, Maximo Nivel offers a variety of programs in Latin America for those who want to volunteer and intern abroad, as well as learn Spanish. Having done a lot to create meaningful change in disadvantaged communities in Latin America, Maximo Nivel is recognized as a top-ranked volunteer program provider in the region. Serving more than 4,000 students, volunteers, and travelers each year, they offer very affordable placements in Costa Rica, Guatemala, and Peru.
Maximo Nivel currently has several placements for students and professionals interested in dentistry. Read on for details!
Price: From $645 for one week (Antigua, Guatemala and Cusco, Peru); from $695 for one week (San Jose, Costa Rica)
Duration: 1 to 4 or more weeks
Maximo Nivel offers two volunteer programs for medical and healthcare practices.
Open to pre-med students, students in years 1 and 2 in medical school, nursing school students, or those studying health sciences.
Work with patients who are physically or mentally disabled, elderly, or affected by HIV.
Assist staff with caring for patients, including general care, distributing medications, and workshops covering a variety of areas, like dental care.
Open to students in years 3 or 4 of medical school, and to licensed professionals.
Work in a hospital, clinic, or assisted living facility alongside physicians, nurses, and other local professionals.
Shadow a medical professional while gaining hands-on experience in various medical and dental fields and learning about healthcare practices in Latin America.
Price: 4-week practicum costs are $1,925 (Costa Rica), $1,495 (Guatemala), and $1,525 (Peru)
8-week internship costs are $2,895 (Costa Rica), $2,195 (Guatemala), and $2,245 (Peru)
Hope to do a dental internship abroad? Maximo Nivel's medical internship invites you to visit Costa Rica, Guatemala, or Peru! You'll work alongside a medical professional and observe and learn about local medical practices. Tasks will vary depending on what's needed at your program site, but can include consultations, health education, and administrative assistance. Internships specifically focusing on dental care are available on a limited basis. So, apply in advance and make a special request with Maximo Nivel.
Note: To sign up, you must have intermediate Spanish language skills and be enrolled in a university program in the medical, healthcare, or dental field, or be a licensed medical professional. To learn more, click here!
Projects Abroad is one of the largest volunteer abroad organizations in the world. Established in 1992, it has hosted over 132,000 participants across 209 projects in 20 destinations around the world. The organization's mission is to make a real impact in the communities it serves by carefully planning and monitoring its projects. Each year, it supports the education of more than 14,000 children, removes nearly 30 tonnes of litter from the environment, and plants over 18,000 trees. It also offers a Gold Standard of Support, with over 30 years of experience and thorough risk assessments for every project. The organization's hassle-free approach includes airport pickups, local transportation, and safe, clean accommodation, all included in the price. In addition to volunteering, it offers a variety of internships and teaching abroad opportunities, as well as programs for families, groups, and high school students. Its minimum age requirements are 16 for Flexi trips and 15 for High School Specials. It also offers a lot of flexibility for volunteers, including accommodating dietary requirements, accommodation preferences, accessibility needs, and interpreter services at no additional cost wherever possible. Its most popular programs include Volunteer in Nepal, Volunteer in Cambodia, Volunteer in Tanzania, Volunteer in Ghana, Volunteer in Peru, and Volunteer in Fiji. Its programs start at $1,295 for 1 week.
Get your dentistry career off to the best possible start by gaining international experience on a Projects Abroad Dentistry Internship. Before you know it, you can be observing and working alongside some of the best dentists in another country.
Price: $1,295 per week or lower – the longer you stay, the cheaper it is per week
Duration: 1 to 52 weeks (note: prices for most programs drop below $400 per week if you intern for 3 months)
Projects Abroad offers dental internships abroad that provide individuals with the clinical skills necessary to take the next step in their future career as a dentist. Not only will you learn from qualified dentists and gain global experience, but you will also have the opportunity to work in professional medical facilities, such as a hospital dental ward or a specialist dental clinic. You will gain insight into how dental practices differ in developing countries and how dentists cope with fewer resources. You will also have the opportunity to observe oral diseases and conditions much more advanced than what they would see at home, as well as routine and complex procedures, such as root canals or maxillo-facial surgery. Additionally, You will have the opportunity to participate in hands-on dental outreaches and raise awareness of oral hygiene.
An international dental internship is perfect to expand your medical horizons. You'll shadow professional dentists and get practical experience in treating oral conditions and diseases. And you can learn about healthcare in countries like Argentina, Ghana, Jamaica, Mexico, Nepal, Sri Lanka, Tanzania, and Vietnam.
Projects Abroad sets itself apart from other internship programs by focusing on benefiting the communities in which they work. They track the positive impact their projects have through a secure and anonymous Global Impact Database, which allows them to use data to shape medical outreaches and health awareness programs. They also work alongside real healthcare professionals, providing individuals with the opportunity to observe them in their everyday work, ask questions, and hear more about their experiences. Additionally, they often have the ability to tailor the internship to their interests, allowing them to work in more than one department or focus on one particular area.
Involvement Volunteers International (IVI), established in 1989, is a non-profit and charity that beckons individuals to be part of 25,000 volunteers who've positively impacted 112 projects in 23 countries. They have an excellent safety record, in-country 24/7 support & emergency assistance. IVI currently offers one dental internship program located in Kathmandu, Nepal.
This internship is open to dental students and licensed professionals in the dental field. Since this is a comprehensive internship, the minimum duration of the program is 4 weeks. You will spend your time shadowing dentists and nurses in dental hospitals, as well as assisting doctors and nurses as needed. What is really interesting about this program is the chance to see different departments such as the Department of Oral and Maxillofacial Surgery, the Department of Prosthodontics, the Department of Community Dentistry, etc, to expand your dental knowledge. You will work a minimum of 25 hours a week. There will also be an English speaking coordinator to assist you as needed. And to start the internship, you will have an introduction week to Nepalese culture to help you settle. Your accommodation will be located in the heart of the city of Kathmandu, and close by to the hospital. For more details on how to start this amazing internship, click here!

Project Locations: Peru, Tanzania, and India
The Basics of Volunteering Solutions: Volunteering Solutions (VolSol) is an international volunteer organization that was started in 2006. Since 2007, they have hosted over 10,000 volunteers in projects across 20+ countries, including popular destinations such as Nepal, India, Thailand, South Africa, Peru, and Costa Rica. Volunteering Solution's volunteer projects are among the most affordably priced in the world, starting at $200 USD for one week. In addition to their 120+ volunteer projects, Volunteering Solutions also offers intern abroad opportunities, the highlight of which are their dental and medical internships. To learn more about Volunteering Solutions and apply to their program, visit their website here.
Project Details: Volunteering Solutions is a good choice for pre-dental and dental students looking for exciting volunteer and internship opportunities abroad at an affordable price. Depending on the location, Volunteering Solutions places students anywhere from the dental departments of large urban hospitals to a rural dental clinic at a village school. Dental students get a wonderful opportunity to work with and learn from dental professionals while learning to provide care in situations very different from their home environments. This can be a huge boost to the dental careers of many students as they get unique and differentiating hands-on work experience in an international environment.
Dental Volunteer Program in Tanzania
As part of Volunteering Solutions' medical volunteer program in Tanzania, dentistry students and professionals are welcome to sign up to work in the dental department of a large hospital in Arusha. You'll have the opportunity to work alongside local professionals and learn about dental practices in Africa while gaining hands-on experience to help further your studies and career. This program starts from one week at just $290, and you're invited to stay eight weeks or longer to learn the most from your experience in Tanzania.
Dental Elective Internship in India
Through this program, you'll have the chance to work in a dental clinic in the Dharamsala region of India. This is an excellent placement for dental students who want to gain experience in the field while learning from and shadowing a local professional. You'll be able to assist with basic tasks or even assist with extractions, fillings, and scalings, depending on your educational experience and comfort level. This internship program lasts two weeks or longer, and starts from $750.
Dental Elective Internship in Peru
Another excellent internship you can take on as a dental student is Volunteering Solutions' dental elective in Peru. Similar to the elective in India, this internship invites you to shadow a local professional and assist with tasks such as sterilization of supplies and assisting with hands-on tasks such as cleanings, extractions, and more, depending on your background experience. As an intern, you'll also have the chance to visit public schools and kindergartens to teach about oral hygiene practices. This internship starts from two weeks at just $580, and you're invited to stay eight weeks or longer.
Looking for an exciting and personalized dental internship abroad? Look no further than Cerca Abroad, a leading international internship provider. Founded in 2016, Cerca Abroad currently offers more than 20 internships, including highly regarded dental and medical internships.
What sets Cerca Abroad apart is its personalized approach. Programs run all year round, and you can select dates that work for you. Accommodation is fully furnished and local coordinators speak English and are ready to help with all your needs.
Even better, you can earn college credit. Cerca Abroad cooperates with Webster University (Athens Campus), enabling you to transferable US university credits for dental internships abroad.
Check out two of Cerca Abroad's dental internship programs:
Price: $1,900 for 2 weeks; $7,400 for 12 weeks
Duration: 2-12 weeks
Gain valuable experience in dentistry and explore Greece with Cerca Abroad's Dental Internship. During the program, you'll shadow dentists for up to 40 hours per week in state-of-the-art clinics. You'll witness different specialties, observe medical specialties, and gain hands-on experience working with patients.
Tailored for pre-dental and graduate students, this program will help you fortify your medical school application while offering you a once-in-a-lifetime experience abroad.
Want to join this dentistry internship? Apply here.
Price: $1,900 for 2 weeks; $7,400 for 12 weeks
Duration: 2-12 weeks
This medical internship in Greece allows you to shadow doctors for up to 40 hours weekly in state-of-the-art hospitals and clinics. You can observe medical procedures, talk with patients, participate in daily routines and more.
Compliant with AAMC guidelines, this internship can be customized according to your area of interest. For instance, if you want to pursue a career in Oral & Maxillofacial Surgery, you can shadow oral surgeons.
Want to join this medical internship? Apply here.
Love Volunteers began in 2009 with a focus on transparency, affordability, and creating lasting change in communities around the world. Established in 2009, they've quickly become a well-respected name in volunteering abroad. Within their first decade, they sent more than 20,000 volunteers abroad. Love Volunteers' popularity continues to rise, with more than 4,000 volunteers choosing them in the past year.
Love Volunteers has volunteer and internship programs for dentists and dentistry students in Latin America, Africa, and Asia. Depending on your level of experience and whether you have certifications, you may shadow a local dentist, prepare and sterilize equipment, carry out maintenance duties in the clinic or hospital, visit schools and community centers to educate about oral hygiene, and even directly assist dentists with their work.
Price: From $449 for two weeks
Duration: 2 to 12 weeks
Support government-funded clinics that serve patients who can't afford private care. Severely understaffed and under-resourced, these clinics in Cape Town need medical volunteers like you. You'll shadow a local physician or nurse, contribute to health awareness programs, and may get do some hands-on work. Assist with dressing wounds, taking blood pressure and temperature, and getting patients from one service point to another. You'll get to observe work in a variety of departments, from emergency to dental.
During non-work hours, you can easily explore Cape Town. Cultural sites, gorgeous beaches, and the iconic Table Mountain are all nearby. If this sounds like the medical mission trip for you, visit the program page to learn more!
Price: from $939 for two weeks
Duration: 2 to 12 weeks (longer stays can be arranged)
Through this medical internship in Chiang Mai, Thailand, you'll get to work in a private or public full-service hospital under the supervision of a local medical professional. You'll be able to learn a great deal about Thailand's healthcare system through shadowing and learning from highly-trained physicians, dentists, and others. If you have the qualifications, you can help with hands-on care.
Also worth noting is that Chiang Mai, a city in mountainous northern Thailand, amazes at every turn. Be sure to visit the Buddhist temples like Wat Phra That Doi Suthep. Want to learn more about this program? Click here!
Price: From $429 for two weeks
Duration: 2 to 12 weeks (longer stays can be arranged)
Travel to Uganda and work in the private Ngora Freda Carr Hospital. The hospital has a surgical theater, lab, pharmacy, and maternity ward. They also offer dental services. Your level of experience and training will determine the exact tasks that you'll take on, though you at least will have the opportunity to shadow doctors and help patients and visitors. Your assistance is invaluable for the hospital and the patients they serve, many of whom come from impoverished areas.
Past volunteers in this program have great things to say, like Sarah from Canada:
"I had an amazing experience in Ngora, a town in the Teso region of Uganda. From getting to the airport to leaving the country at the end of my placement, Love Volunteers made sure my needs were met."
This volunteer trip can be combined with a tour of Kampala, the capital and largest city in Uganda. The city is filled with historic sites and modern skyscrapers. If this sounds like the internship for you, get more details here!
Plan My Gap Year (PMGY) works across 17 countries in Africa, Asia, and South America. Established in 2011, PMGY places more than 4,000 volunteers abroad every year. They're known for their commitment to creating sustainable change in local communities, and also have affordable, transparent fees.
A leading volunteer organization, PMGY has medical volunteer abroad projects in numerous fields, including in medicine and dentistry. Check out two of their terrific medical and dental care volunteer opportunities:
Price: From $714 for two weeks
Duration: 2 to 24 weeks
Help the people of Kumasi by providing dental and medical care to those who need it most. A great program for dental or medical students, you'll learn about diseases and ailments that afflict too many people in the region, such as typhoid, polio, HIV/AIDS, and TB, as well as tropical diseases like Malaria, Leishmaniasis, and Dengue. Your help can reduce the negative impact of these diseases.
After volunteering, travel around Kumasi, a center of Ashanti Culture. Kumasi is known for its huge open-air Kejetia Market and the National Cultural Centre, where you can enjoy craft workshops and heritage dance performances. Intrigued? Learn more and apply here! State you want a dentistry placement when applying.
Price: From $789 for two weeks
Duration: 2 to 24 weeks
Work at a government hospital in Tengeru, a town right next to Arusha. The 24/7 facility treats 50-80 patients per day, and you'll get firsthand experience of the challenges facing a busy hospital. For this program, you can request to be placed in the dental department or another department, like the diabetes clinic, HIV awareness and testing, gynecology, midwifery, radiology, etc. It's entirely up to you. The dental ward is excellent if you want to observe local dentists in action and promote oral hygiene education.
During off-hours, Arusha, which is known as the gateway to safaris and national parks, has plenty to do. Want to volunteer in Tanzania? Apply with PMGY now!
Agape Volunteers supports humanitarian work and conservation efforts through high-quality volunteer abroad experiences in Kenya, South Africa, Tanzania, and Ghana. Founded in 2011, Agape Volunteers is a registered UK charity that aims to create real and positive change in Africa through education, conservation, and healthcare initiatives.
By offering free travel insurance and nixing registration fees, Agape Volunteers cuts costs for dental volunteers. If you want to volunteer for dental and medical care in Africa, they're a terrific choice (see programs below!).
Note: To join these programs, you'll need to have completed at least one year of medical school, or be a qualified nurse or doctor.
Price: From £590 for one week
Duration: 1 up to 52 weeks (note: 24 weeks is only £2,415)
Ready to test your healthcare training in a hospital or clinic in Kenya? Help perform basic procedures under supervision, including distributing medicines, dressing wounds, and more. Keep in mind this a general medical volunteer program, but there will be opportunity to help treat patients with oral health issues. Your volunteer work helps the healthcare facility greatly too, as they're overburdened and require more staff to adequately serve the community.
When you're not volunteering, explore Nairobi, Kenya's bustling capital, as well as the surrounding nature. Intrigued? Click here to learn more!
Price: From £510 for one week
Duration: 1 to 52 weeks (note; 6 months is just £2,610)
Join Agape Volunteers in Ghana for this medical program! Start the day by shadowing medical professionals as they begin their rounds, and—if asked—assist with more serious procedures. You may also get to assist with treating dental trauma patients. By serving as a volunteer, you can ensure the most vulnerable people in Accra get access to healthcare.
During non-volunteer hours, enjoy Accra, a gorgeous city on the Atlantic Coast. Ready for an adventure to Ghana? Read more and apply!
Price: From £695 for one week
Duration: 1 to 2 weeks
Develop your healthcare training and skills on a medical placement in Tanzania with Agape Volunteers. Support staff at underserved hospitals and clinics, and contribute to medical and dental outreach projects in the community. By doing so, you'll empower locals to prioritize oral health.
Arusha, with Mount Meru and other sites nearby, makes for a great volunteer abroad destination. If this program sounds right for you, click here to start your application!
Founded in 2007, A Broader View Volunteers (ABV) coordinates volunteer abroad projects all over the world, including in Peru, Ecuador, Honduras, Nepal, Tanzania, Guatemala, Uganda, and India. With over 20 years of experience in the industry, ABV prides themselves on their commitment to service and is affiliated with institutions like the University of Massachusetts Medical School and the American Medical Student Association.
For pre-dental students, ABV has specifically crafted pre-dental volunteer abroad excursions. Look over their dental volunteering program in Honduras below:
Price: From $895 for one week
Duration: 1 to 12 weeks
Serve as a dental volunteer in La Ceiba, Honduras, a beautiful Caribbean port city with waters that are part of a vast barrier reef. There, you'll get to work as part of an oral health hospital staff and assist with procedures such as extractions, endodontics, and root canals. You can also participate in oral hygiene education ventures within the community, which benefits local youth and adults who don't have adequate access to dental care.
Past volunteers have great things to say about the dentistry program in Honduras, like Logan:
"I had a great time in La Ceiba, Honduras. My work was great and fulfilling at both the old hospital and the school. My host family was excellent and accommodating, and all of the people, from the children to the patients at the hospital, were very nice and respectful. I truly value the ABV experience as a life-changing event."
Note: Volunteers must be currently enrolled in a dental course at an accredited university and are expected to bring their own scrubs and basic dental tools. Pre-dental students or other volunteers are welcome to apply, but will only be allowed to observe and support dental professionals away from the procedure room. If you'd like to apply, visit ABV's site!
As their name suggests, Cross-Cultural Solutions focuses on immersive cultural experiences. They aim to transform lives through not only practical service initiatives, but also by building strong relationships. In their first 24 years, Cross-Cultural Solutions placed more than 35,000 volunteers abroad, including many healthcare volunteers.
For medical mission trips with children, Cross-Cultural Solutions has numerous offerings, like this wonderful program in Morocco:
Price: From $1,990 for one week
Duration: 1 to 4 weeks or longer ($600 per each extra week)
With only one-third of the population insured, many in Morocco wait until they're in desperate need of medical services. The high cost of services makes it very difficult for most families to pay out-of-pocket. Inadequate access to healthcare presents challenges for children that can prevent them from realizing their full potential. As a healthcare volunteer, you'll support the public health needs of young students, assisting with vision and dental projects, hygiene education, and other services.
This initiative in Morocco is great not only for aspiring dentists, doctors, and nurses, but also for anyone with an interest in exploring Morocco's culture. Register here if you'd like to join!
Frontier boasts a wide variety of volunteer and intern abroad programs, as well as gap year volunteer excursions. Established in 1989, Frontier sent more than 103,000 volunteers overseas in their first three decades. They've also contributed to and published more than 600 research papers.
If you want to find a dentistry program abroad or medical mission trip, Frontier has you covered. Check out two of Frontier's placements:
Price: From $2,595 for three weeks
Duration: 3 to 4 weeks or longer
Ensure those living throughout the islands in the Maldives have easy access to healthcare and dental services. By assisting with dental checkups, helping with basic oral care, and providing community health education, you can empower islands to increase their self-sufficiency and preserve their way of life. Many smaller islands lack dental professionals, which means you can fill the gap.
The Maldives also makes for a great volunteer destination, with world-famous beaches, a unique local culture, and plenty of water activities (snorkeling, diving, etc). Already packing your bags? Sign up with Frontier today!
Price: From $1,895 for four weeks
Duration: 4 to 10 weeks
Head to the Dominican Republic, and work at a local dental clinic dedicated to primary and preventative healthcare. Many locals can't afford such care, so your help goes a long way. You'll shadow dentists in a hands-on manner. You'll observe and help with a variety of treatments, including dental restorations, bridges, crowns, gum therapy, root canal therapy, and prosthetics and dentures.
During free time, Samaná invites you to play, with breathtaking sites like Samaná Bay (during winter's mating season, the waters here play host to humpback whales). Interested? Click here for more info!
Created in 2014, Volunteering Journeys offers placements throughout Asia and Africa. Founded by experienced volunteers, Volunteering Journeys aims to merge passions of travel and community service to provide impactful and memorable volunteer abroad programs.
Volunteering Journeys provides personal attention and tailored trips for all volunteers and commits to high-quality service (the founders are highly involved!). They also engage scientists, doctors, teachers, and community leaders on all of its programs. If you're interested in a dental volunteer program, Volunteering Journeys offers several placements you should check out in countries like Cambodia, Sri Lanka, Nepal, and India (see below).
Price: From $959 for two weeks
Duration: 2 to 12 weeks
Suitable both for dental students and pre-dental students, this program invites you to Dharamsala or Kerala, India, where you'll have the chance to gain practical experience in dentistry. Work in a local hospital or dental clinic alongside dentists and other professionals to provide hands-on assistance with their work.
Want to volunteer for dental care in Dharamshala or Kerala? Learn more here.
International Service Learning aims to "support cultural awareness, service-based learning, and sustainable development projects through experiential and responsible volunteer travel programs that inspire local and global service." As ISL specializes in skilled or occupational volunteer abroad placements, its medical, nursing, and dentistry programs suit professionals or students looking for an in-depth work opportunity.
Past volunteers, like Kathleen, give a lot of praise to ISL:
"I went to Costa Rica and the trip was the most amazing thing I have ever done in my life. It was so incredibly inspiring, and just validated how much I want to do health care. The team leader and his assistant were amazing as well. I felt safe the whole time, and there were no issues while I was there."
ISL's dental volunteerism programs focus on bringing dentistry to children in underserved communities. The programs respect all of the ADEA's guidelines for international dentistry volunteerism. Have a look at ISL's project in Mexico below:
Price: $1,495
Duration: 7 days
Experience Mexican culture as you learn about local dental care challenges and assist local dentists with screenings and basic care. The Baja Mexico program works with global health agencies and NGOs to ensure children and adults in the area get sufficient access to oral healthcare services.
During free time, Puerto Peñasco, which is a fishing and resort city, invites you to relax and enjoy the culture and cuisine. If this program sounds amazing, apply here!
With projects in Costa Rica, Guatemala, and Nicaragua, Vida Volunteer Travel connects skilled volunteers to low-income communities that generally do not have steady access to healthcare. Vida aims to give volunteers an immersive cultural experience. You'll stay with a host family and be placed in a position that aligns with your skills and the community's needs.
See details for Vida Volunteer Travel's dental volunteer abroad program below:
Price: Varies (programs are personalized)
Duration: Varies
Many people in Central America don't have regular access to dental care. You have a chance to do some real good when you volunteer with Vida Volunteer Travel in Costa Rica, Nicaragua, or Guatemala. Dentistry volunteers may perform a variety of tasks, from educating communities about preventative oral care to taking part in intensive dental procedures. Duties depend largely on your skills and qualifications. The great thing is Vida ensures there are no more than five dental volunteers per dentists, so you'll have lots of individualized attention.
Former volunteers, like Erica, highly recommend Vida for dental and healthcare volunteering abroad:
"Without hesitation, I would recommend VIDA to anyone interested in healthcare! It clearly benefits the volunteers immensely, and more importantly, provides much-needed health care to impoverished communities. I also really appreciated how we had non-clinical days dedicated to exploring the culture."
Want to join? Apply on Vida's site today! Know the earlier you apply, the more likely you'll be able to customize the program to match your preferences and goals. The program suits pre-dental and dental students, but anyone interested in the dental field is welcome to apply.
Global Dental Relief (GDR) brings together medically trained dental professionals with other volunteers to provide high-quality dental care to children in underserved communities. GDR coordinates volunteer projects in six different countries: Kenya, Cambodia, Nepal, Vietnam, India, and Guatemala. In addition to volunteering, Global Dental Relief arranges excursions for volunteers to see the country and understand the local culture.
GDR dental volunteers work in mobile dental units to provide dental exams, extractions, and restorative care. Non-trained volunteers support dental professionals by assisting with administrative work, providing patient education support, and helping maintain dental instruments. Projects typically serve anywhere between 500 and 1000 children, which means you'll get plenty of experience.
Read below about what you'll do as an oral health volunteer in Cambodia:
Price: From $2,550 (clinic + travel in and around Siem Reap); volunteers may add on traveling to Laos and/or Myanmar)
Duration: 12 days altogether (6 days of clinic work)
Work in a field dental clinic at a local school and improve the dental health of Cambodian children. Global Dental Relief combines volunteering work with travel adventures in Siem Reap, including a tour of the Angkor Wat temple complex. You'll have a blast during the program, whether you're helping kids brush their teeth or enjoying local cuisine.
Sound like the dental volunteer abroad experience you seek? Sign up on GDR's site!
Health Volunteers Overseas (HVO) works to improve the quality and availability of healthcare to marginalized communities across the globe. While HVO began as a team of doctors dedicated to global health over 28 years ago, they're now one of the most prominent healthcare-focused volunteer abroad organizations.
HVO's oral care projects have their own specific goals and methods. Their initiatives are sponsored by the American Association of Oral & Maxillofacial Surgeons (AAOMS) and the American Dental Association (ADA). That's a testament to their quality and impact.
Read below for more program details:
Price: Varies as programs are customized to meet the needs of the volunteer and community
Duration: 1 to 4 weeks or longer
HVO coordinates oral care projects in six different countries: Cambodia, Kenya, Laos, Nicaragua, St. Lucia, and Tanzania. In these countries, oral care is often unaffordable for the poor and even middle-class citizens. Volunteers help make sure all people receive the dental services they deserve. All HVO projects are staffed by highly-qualified healthcare professionals who are held to the highest standards in communicating with patients and respecting the traditions and cultural beliefs of the host country.
Note: Whether you want to volunteer for dental care in Laos or St. Lucia, start your application as early as early as possible to allow for all steps of the placement process to be carefully coordinated. Apply here to become a volunteer with Health Volunteers Overseas!
Mercy Ships houses their volunteers, support staff, and care facilities on large, mobile ships that provide medical services as they stop at each international port. Since their founding in 1978, Mercy Ships has provided medical services to over 2.5 million of the world's most underserved people in different ports throughout Africa.
In addition to serving on Africa Mercy (the ship), Mercy Ships also utilize volunteers to operate mobile dental clinics and community health education projects. Mercy Ships operates with an average crew of 450 people and is consistently looking for trained and licensed medical professionals, including dentists and dental hygienists.
Read below for more program details.
Price: Varies (All applicants must cover health insurance, transportation to and from the ship, crew fees, and personal expenses.)
Duration: 2 weeks to 2 years or longer
Mercy Ships fills positions as volunteers cycle out of their work. From anaesthesiologists to nutritionists to orthopedic surgeons, Mercy Ships has consistent needs for trained professionals. Vacancies can be checked online (be sure to look at port dates!). Common destinations where you'll provide medical services include areas of Guinea, Republic of the Congo, Cameroon, and Madagascar.
All dentists and dental hygienists work under a full-time, permanent Lead Dentist who is responsible for coordinating mobile inland dental clinics. Applicants applying to be dentists and dental assistants must have at least one year's experience with common dental procedures and dental equipment. Mercy Ships requires that all dentists have active or current practicing licenses within their home country.
Want to volunteer abroad aboard a ship? Then apply to a position today!
Work the World specializes in bringing experiential overseas internships to students and graduate students in medical fields. With more than 10 years of experience in the international volunteering industry, Work the World has local partners in countries in Africa, Asia, and South America, and has a wealth of knowledge pertaining to making sure that all medical placements are fully vetted and volunteers are properly supported. They've crafted over 13,000 medical placements since beginning over a decade ago.
Each of Work the World's dental projects is tailored to the participant's specialization and goals, as well as their training status (undergrad, grad school, etc.). Internships for dental students give valuable professional development, while strengthening the capabilities of the clinics. As part of a safe and accredited local clinic, interns may participate in general dentistry procedures such as scalings, extractions, fillings, and root canal work. There are also specialist placements in oral cancer, maxillofacial, and surgery. Locations include Mexico, Peru, Nepal, and Ghana.
Interested in a dentistry internship abroad with Work the World? Consider their Zambia program (details below):
Price: From two weeks for $2,540
Duration: 2 to 6 weeks (extra weeks cost $600/week)
Work at the only hospital in Lusaka that offers low-cost or free dental care. Through this internship, dentistry interns can help make oral care a reality for many local families living in poverty. You'll assist with basic care and observe procedures, such as restorations and fillings.
When you're not caring for teeth, explore Lusaka's markets, travel to Victoria Falls, visit one of Zambia's game parks, and more. Sound like the perfect dental volunteer adventure? Apply today!
Specializing in physician shadowing programs in countries like Croatia, Tanzania, and Thailand, Gap Medics gives volunteers and interns the opportunity to serve underserved and often indigent populations. Most suitable for pre-medical, pre-dental, and nursing students, their projects enable you to observe experts in your medical field (like renowned dentists!). Gap Medics projects combine health care instruction with real-world experience so you can develop useful occupational skills.
For their pre-dentistry volunteer abroad programs, Gap Medics accepts applicants of any level of background knowledge, but specializes their programs to benefit high school students interested in a medical career, university students, or early-career graduate students. If you're in high school and want to be a dentist, definitely consider Gap Medics (see details below).
Price: Varies; there is a $450 registration fee to secure your place
Duration: 1 to 8 weeks or longer
Observe real dentists in working hospitals, and witness routine cleanings, fillings, abscesses and extractions, and more. You'll be assigned a dentistry mentor to guide and supervise you during your internship, which can prove invaluable in starting your journey to being a dentist. This is a great internship for enhancing your college and dental school application.
When you're not working at the medical facility, tour Warsaw, a sprawling and historic capital, or have fun in La Romana, a pretty city on the Caribbean coast. Programs often fill up many months beforehand, so choose your location and apply as soon as possible if you're interested.
Understanding the Costs for Dental Volunteer Abroad Projects
As you're researching medical mission trip opportunities, keep in mind all the expenses. You may be responsible for:
Program Fees (From $180 up to $3,000+)
Airfare (Up to $1,000+)
Necessary expenses: travel insurance, medications, vaccinations, visa fees, etc (up to $500+)
Miscellaneous in-country expenses: shopping, sightseeing, etc (varies)
When you add it all up, a medical mission trip could cost you anywhere from a few hundred dollars to over $4,000. Costs vary based on the program, plane ticket prices, and other factors, like visa fees and amount of medical care required before departure.
To keep your costs down, consider an affordable, high-quality program. Furthermore, most organizations offer discounts the longer you stay. So, an eight-week dentistry internship abroad may cost 25% less per week than a four-week placement.
You should also inquire about volunteer perks. For instance, Agape Volunteers, an organization with lots of great volunteer programs in Africa, offers free travel insurance. That eliminates an expense.
Some other money-saving strategies include:
Applying for volunteer abroad scholarship and grants: The Volunteer Forever Travel Scholarship can get you up to $500 or $1000 for your volunteer or intern abroad trip.
Fundraising: Medical mission trip participants can be very successful when it comes to fundraising for their trip. For example, the medical mission organization, International Service Learning, has over 300 fundraisers on Volunteer Forever! Fundraisers such as Charley, Alicia, and Kendra have each raised over $3,500 for their trip.
Looking for cheap flights: Airfare can sometimes account for over half of your volunteer abroad expenses, especially if you're flying across the world (like from Canada to Thailand). Book well in advance, use miles or points, and/or fly during non-peak season. Some organizations, such as International Volunteer HQ, work with a team of humanitarian flight agents to get volunteers cheap tickets.
So, while volunteering abroad for dental care can seem expensive, you can offset the cost by planning ahead, employing smart strategies, and utilizing your resources!
Let's Recap! Dental Volunteering and Medical Mission Trips Abroad
Dental volunteering abroad presents a unique opportunity to make a positive impact and grow as a person and medical professional. Whether you're trained in the oral healthcare field or not, you can find a suitable program and make a difference in the oral health needs of children and families across the globe.
Depending on where you are in your studies or occupation, volunteering abroad for dental care can have a variety of benefits.
If you're an established dental professional, you can spread your valuable skills and knowledge to local communities. You can utilize your skills to treat those who don't have adequate access to oral healthcare. And you get to work in a new environment and possibly even in a different field of expertise. That can be very exciting.
For dental and pre-dental students, dentistry volunteering and internships enable you to observe your field in its most basic role—helping people. Since oral healthcare is so difficult to obtain in many parts of the world, many communities rely on dental volunteers and students to fill in the gaps. Furthermore, you'll gain crucial real-world experience when you volunteer abroad for dental care, which can not only boost your resume, but also help you figure out what you want to do in dentistry.
In short, dental volunteering abroad means the chance to make a tangible impact as a skilled volunteer. Like with unskilled volunteer abroad opportunities, the most beautiful benefits come from serving and helping people. You can improve health outcomes and lives. And you'll make lasting connections with those you serve.
Just remember: The patients that you serve must be the primary beneficiaries of your volunteer abroad service! Thoroughly research programs and make certain they abide by ADEA guidelines (like those listed here).
Ready for Your Dental Volunteer Adventure?
Now that you're informed, start planning your dental or pre-dental volunteer abroad journey. Consider your dentistry experience and qualifications, as well as your goals, budget, and preferences for location.
To streamline your search, and cut expenses, set up your Volunteer Forever profile. Apply to your project and begin fundraising on our platform. Other volunteers have raised thousands for their trip—and you can too!
For even more help on finding and applying for a dental volunteer program, check out the following Volunteer Forever resources: